Ground Up provides job training to women overcoming adversity through the sale of healthy and delicious nut butter. Its inclusive work environment includes on-the-job training and takes an individualized approach to meeting women where they're at, regardless of their background and previous job history.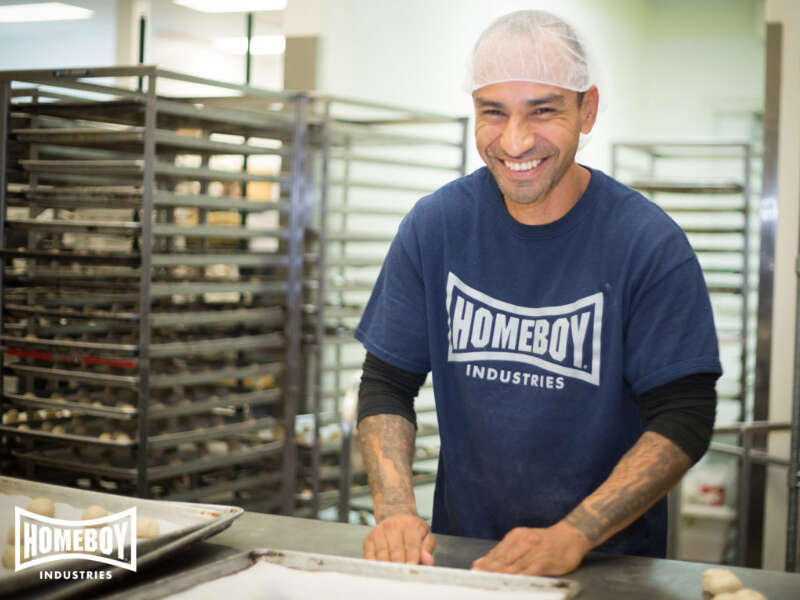 Homeboy Industries provides hope, training, and support to formerly gang-involved or incarcerated people, enabling them to redirect their lives and contribute to society. Over 400 clients each year start Homeboy's flagship 18-month reentry program. Clients are embraced by a community of kinship and offered a variety of training and wraparound services.
Women's Bean Project believes that all women have the power to transform their lives through employment. The organization hires women who are chronically unemployed and teaches them to make nourishing products. The women acquire the tools needed to sustain themselves and their families for a lifetime.
Beautiful Day builds onramps to employment and economic self-sufficiency for refugees. By aligning job training with consumer demand for socially conscious products, it develops practical, efficient, community-oriented ways to integrate and welcome refugees to our society.
The Homeless Garden Project provides job training, transitional employment, and support services to people who are experiencing homelessness. Conjointly, it provides vibrant education and volunteer programming for the broader community on its three-acre organic farm and workshop.
Outside of Birmingham, Alabama, Prodigal Pottery helps women fleeing homelessness, domestic abuse, or sex trafficking. The loving staff provides financial training, emotional care and support, professional skills, and assistance finding stable living situations. The program helps transition women from chronic homelessness into stability.
BeeLove employs people returning home from incarceration. It provides opportunities to establish a positive work history, learn productive work habits, and become productive members of society. Every purchase reduces recidivism by providing the support, confidence, and skills needed for former prisoners to reenter the workforce.
Zen of Slow Cooking is based in Illinois, where only 25% of people with disabilities are employed, and where, for adults with intellectual and developmental disabilities, that number drops to just 9%. Zen of Slow Cooking is committed to helping individuals with developmental disabilities through its employment model.
Big House Beans Specialty Coffee Roasters sources and roasts award-winning coffees while providing opportunities to those who have a vision for their future. Big House hires, mentors, and teaches skills to the "least desirable" yet hard-working people who deserve second chances.