When corporate gifts are throwaway items that get little use, they create waste. But when you give high-quality, sustainable employee gifts, the impact is felt not only by the recipients of the gift but also by the makers and their surrounding communities.
Sustainability is one of Peace by Piece International's guiding principles. We choose partners that responsibly source materials, eliminate waste by upcycling, and help the planet in other creative ways. We will also work with you to quantify the people-and-planet impact for reporting to your organization.
Here are some of our favorite environmentally friendly gift offerings, just in time for Earth Day.
This crossbody bag is made with upcycled ripstop material and repurposed industrial belts. The bag can be worn across the chest or around the waist and provides the perfect place to stash your phone and snacks. That's why Geographic Expeditions, a sustainable travel company that organizes treks, safaris, cultural tours, cruises, and rail journeys to all seven continents, chose these bags to give to its clients.
"We love PbP for the unique, high-quality, custom swag they create, their outstanding client service, and, above all, the great work they do in supporting local communities in the destinations we send our travelers," said Geographic Expedition's Senior Managing Director of Operations Carey Johnston.
Office and Benefits Manager Pat Arce added, "The process was smooth with careful attention to detail. Peace by Piece was extremely patient and worked with us in redesigning the product until we came up with a bag that worked with our needs and wants."
The process for this product included meeting Geographic Expeditions's size specifications, designing a label with its logo, and customizing the stitching and fabric to match its corporate color scheme. Peace by Piece worked with our partner Jaggery, a women-led social enterprise based in India, to create these sustainable gifts.
These useful accessory bags are crafted from upcycled tent canvas and automotive seat belts.
Patrick Smith, owner and operator of Evolve Fitness, customized these bags for client appreciation gifts. He specified the size and colors he wanted, using Jaggery's dopp bag as a starting point. "The seat belts and other various upcycled products in the pouch are strong and durable, allowing me to be confident in its ability to last a long time," he said.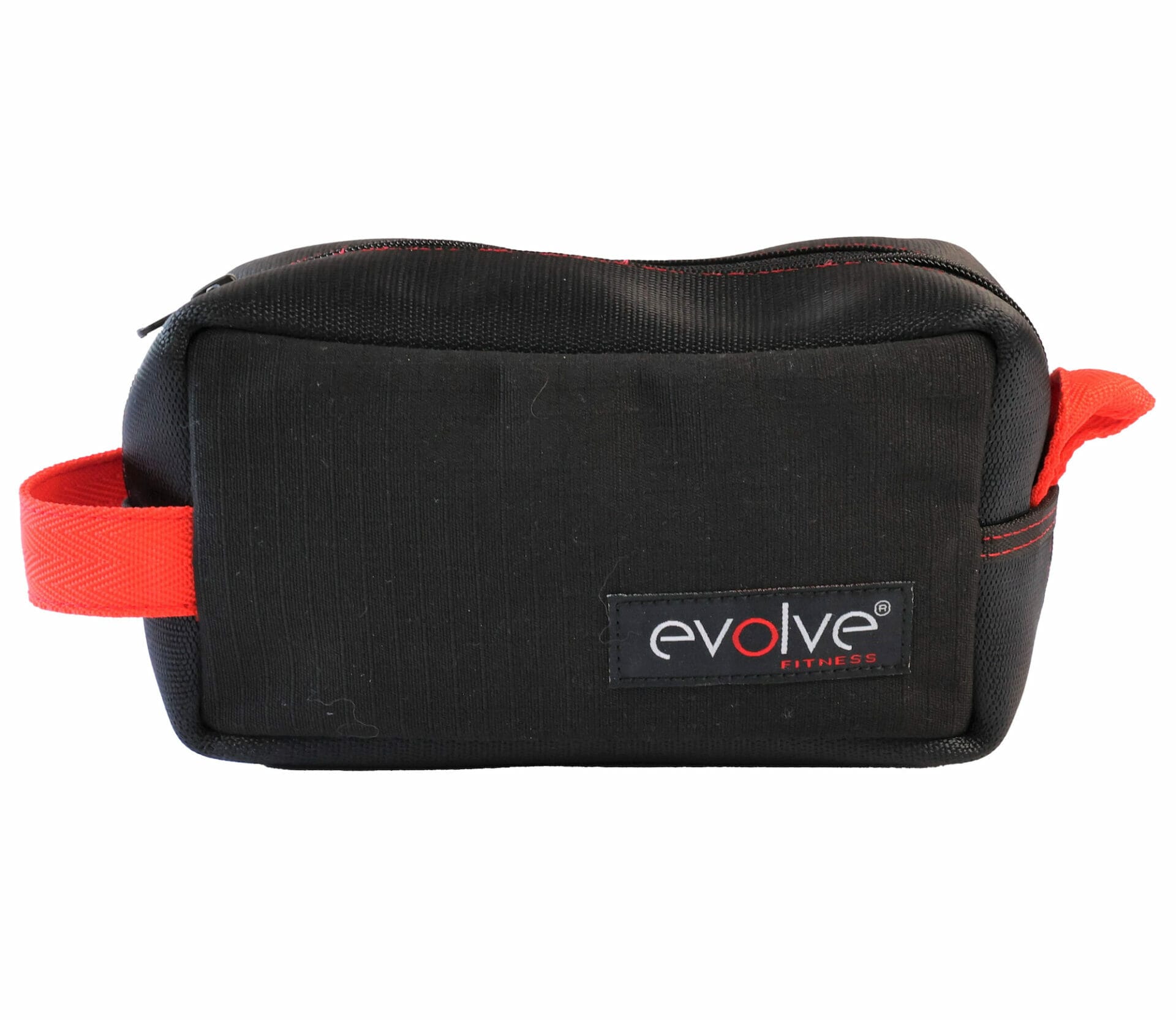 Jaggery's employees, including women often excluded from India's workplace, operate under fair labor practices. They gain specialty skills and salaries that help their families thrive. "So many of my clients love the story behind the pouches (how they were made and who they support) as well as the versatility of the pouch," Patrick said.
"Piece by Piece International is a one-stop shop for client and employee gifts. With the various gift items that can be customized, I'm confident companies can find an item that their employees and clients will love."
According to Pew, 11 million metric tons of plastic waste enter the ocean every year. By choosing gifts from Peace by Piece International through our partner Ocean Bottle, your company helps stop plastic pollution at its source while improving social mobility for people across the globe.
In coastal communities in Haiti, Brazil, the Philippines, Indonesia, and elsewhere, locals like Kuntari (seen in the video) collect plastic waste in exchange for money, healthcare, tuition, or other useful goods and services. Over 4,100 individuals are paid a UN-defined living wage by collecting plastic. The material is then recycled into new products including Ocean Bottles.
Piñatex vegan leather products
Piñatex is a vegan leather substitute made from pineapple leaves. The artisans who work in Piñatex to handmake these products are employed by Peace by Piece International partner Dokmai. Dokmai is a social enterprise in Rwanda that trains its workers and provides stable employment at fair wages.
The sustainable employee gifts shown here are merely a starting point; you can customize the design of the wallet or organizer to conform to your brand or promote your event. For example, you can decide on the leather color and batik fabric that lines the interior, customize the size and layout of the organizer, and/or deboss your logo or message in the Piñatex.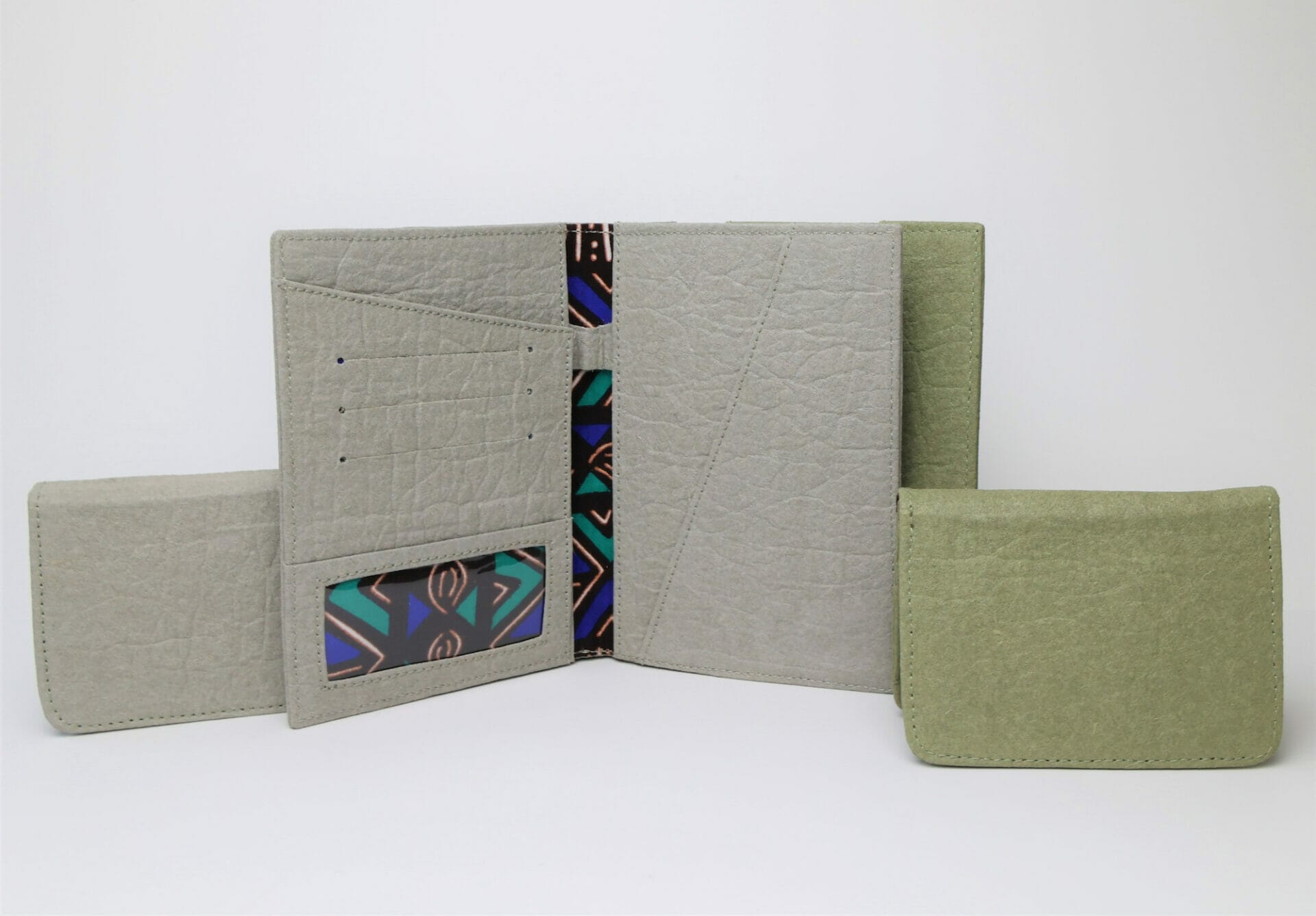 Sustainable employee gifts made from wood
Our partner Itza Wood sustainably harvests wood from the northern Petén jungle of Guatemala. All of its wood is certified by the Forest Stewardship Council, and Itza Wood has planted over 45,000 trees to combat deforestation.
All of the gifts we offer from Itza Wood support The Jungle School, an institution that educates children from nine different villages in the region.
Customize the size and add your logo to these beautiful wood gifts that your employees will cherish for a lifetime.
Create your own sustainable employee gifts
If these ideas have inspired you, reach out to Peace by Piece International to see what sustainable employee gifts we can create for your team. From design to fulfillment, work with makers who are committed to being stewards of the earth.