A custom stamp printed on the inside of these reusable shopping bags begins with the sentence, THIS IS MORE THAN A TOTE. It hints at the lovely story behind them, made possible by our partners at Levi's®.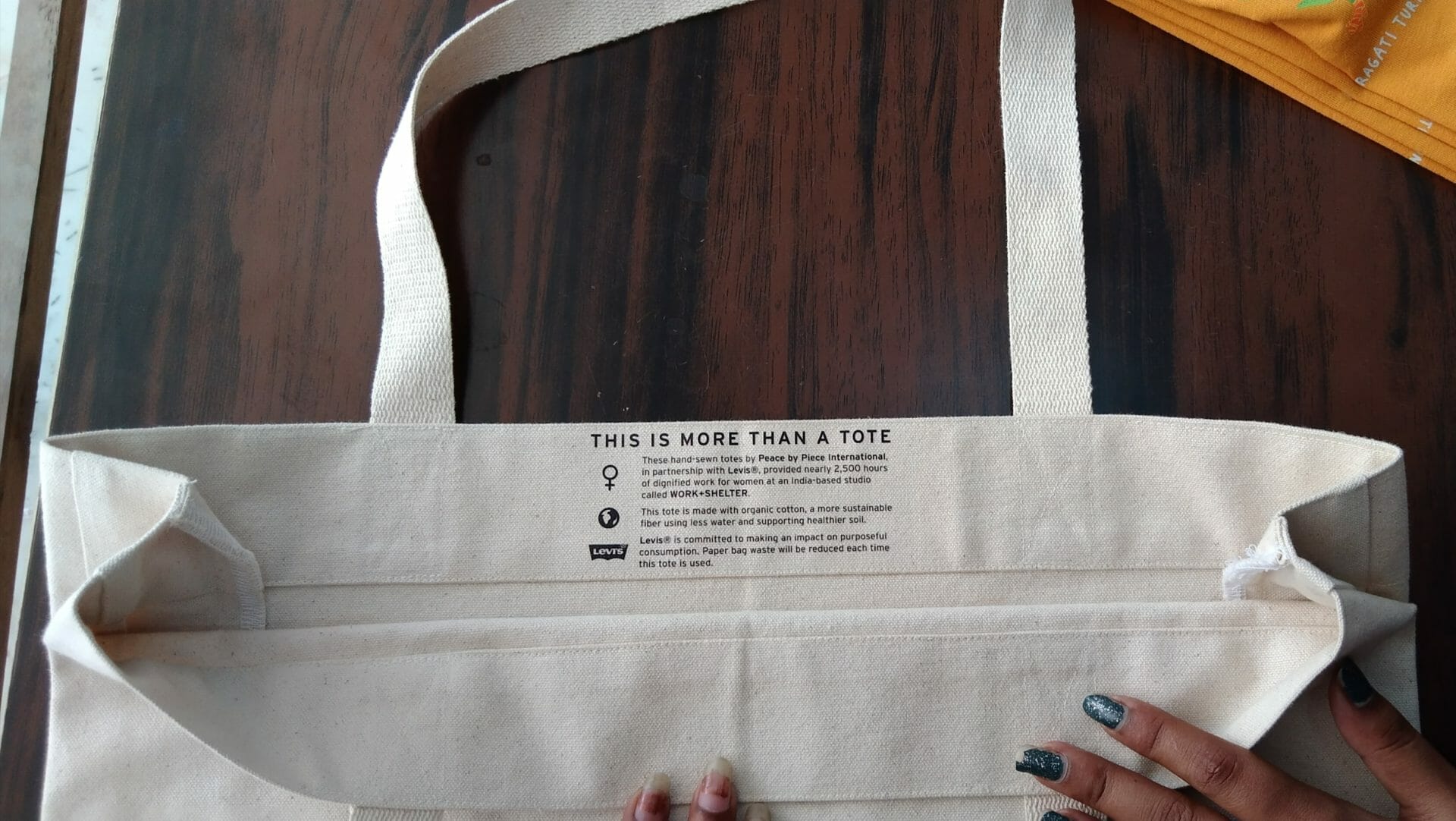 Levi's® partnered with Peace by Piece International to design and create reusable shopping bags with its signature batwing logo. The bags are made from organic cotton, a sustainable fiber that supports healthy soil. When customers use these attractive totes at a Levi's® store, they will receive a discount on their purchase, save the environmental resources of a single-use shopping bag, and be reminded of the positive change they've helped bring about for women.
The bags were handmade by our partner Work+Shelter, a social enterprise in New Delhi that trains and hires women in economic need. Each woman receives paid training and earns a dignified wage within a safe and embracing community. With this order of Levi's® bags, over 2,500 hours of work helped support women's social mobility.
The women behind Levi's® reusable shopping bags
Over 50 women are employed at Work+Shelter's joyful studio in New Delhi. I'm happy to introduce you to three of them.
Hema
Hema came to Work+Shelter four years ago without any formal work experience. She began stitching and quickly excelled as one of the studio's top stitchers. With her natural intelligence and willingness to learn, she was offered an office position.
Hema was hesitant to accept the new position at first, intimidated by having to work with computers and communicate in written English. But with just one year of training, she has become a key member of the merchandising team.
"Work+Shelter gave me the opportunity to grow and earn even during lockdown, [when] my father and brothers were not employed," Hema said. "I am really thankful to Work+Shelter for supporting me."
COVID lockdowns were hard for many families like Hema's which often include grandparents and extended family members. Many men are day laborers who had to go for months without an income. During lockdown, Hema's earnings alone supported her brothers and parents. Even small items like fruit became luxuries, so when Work+Shelter provided fruit for the women, it meant so much to their families.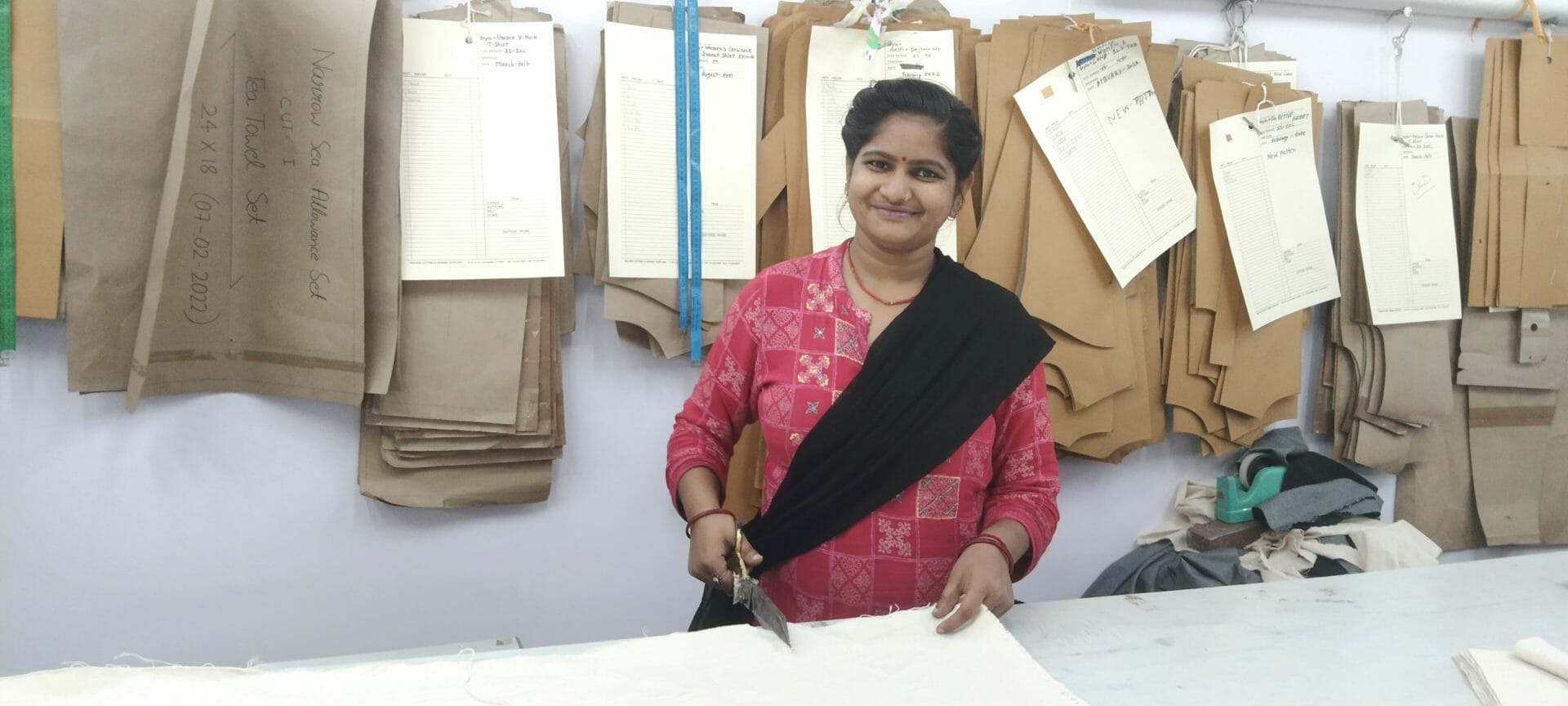 "I joined Work+Shelter when I was badly in need of emotional and financial support," Seema said.
Four years earlier, she had given birth to a girl. Her husband had hoped for a son and blamed Seema for the child's gender. He abandoned her and their daughter and refused to grant a divorce.
She was in a vulnerable state, without an income and with expensive legal fees necessary to access a lawyer. She began to train in stitching. She then showed interest in cutting, an extra skill that requires the use of specialized equipment. Cutting is a crucial role because one mistake can ruin thousands of dollars of fabric.
Over the years, Seema has grown from a cutting assistant to a junior cutting master. This senior job is a position not often afforded to women in other Indian factories.
"Now that I have been working with Work+Shelter for eight years," Seema said, "I am growing in all aspects, financially and professionally."
Rita
Rita and her two children were living in Mumbai when her husband, their sole breadwinner, died. As a young widow with no one to lean on for support, she grew concerned about her family's safety. She made the difficult decision to relocate to New Delhi to be near to her sister.
At Work+Shelter, Rita received paid training and fairly paid work in sewing, packing, and import-export. "Work+Shelter saved me from quitting," she said. "I think I always had the courage but was lacking self-belief. That's what I learned here. Now, this is my happy place."