Haiti is considered the poorest country in the western hemisphere, with more than half the population living below the poverty line. It wasn't always this way — Haiti was once the wealthiest colony in the Americas. But a century of foreign interventions, crippling national debt, political instability, and natural disasters has hobbled the Caribbean island. Your company can help. Peace by Piece International makes it easy for you to purchase meaningful corporate gifts from Haiti to make a difference for the talented artisans building a future there. We'd like to introduce some of them to you.
Meet Julia, a leatherworker at Deux Mains
Julia Antoine was forcibly displaced from the Dominican Republic, a country with a history of discrimination against people with dark complexions. At Fonds Bayard, a refugee camp near the Haitian border, the organization REBUILDGlobally held job training.
Through this training, Julia earned full-time employment as a leather craftswoman with Peace by Piece International's partner, Deux Mains. With her wages, Julia and her husband Fritz were reunited and are now raising their five children together in Port-au-Prince.
"I'm so proud to have gained a trade and to be a self-sufficient woman," Julia says. "I don't like handouts. A handout never could have brought me here."
French for "two hands," Deux Mains produces high-quality leather goods in a 100% solar-powered and employee-owned workshop. Deux Mains also creates goods with upcycled materials like car tires and inner tubes that can be customized with your corporate logo. Each artisan earns a living wage, healthcare benefits, paid parental leave, and paid vacation.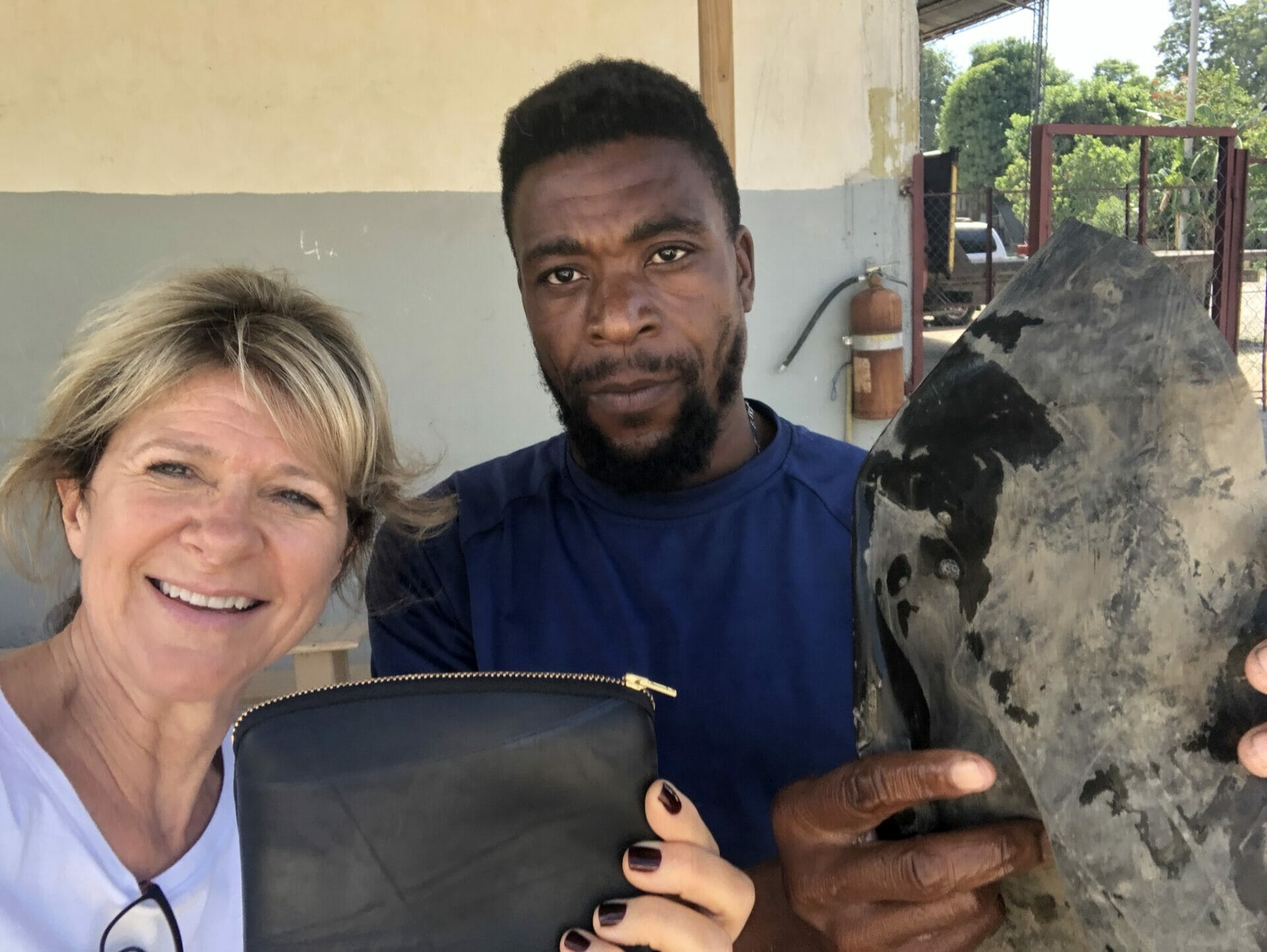 Meet Jonas, a lead artisan at Atelier Calla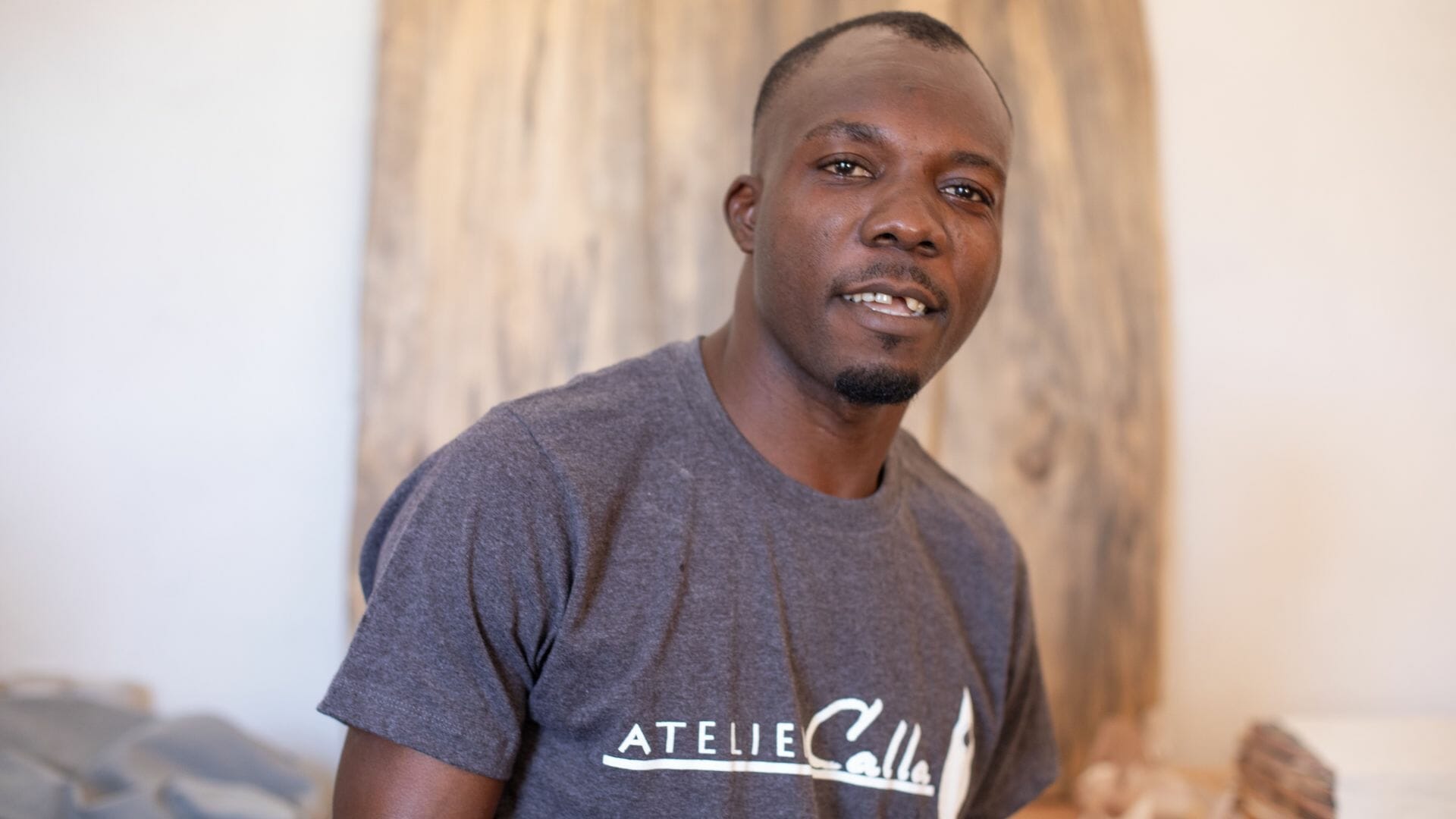 Over 20 years ago, Jonas Hazard left his hometown of Jacmel, Haiti for Port-au-Prince. He feared for his future and had no marketable job skills. Jonas found work as an apprentice to a master horn artisan.
The craftspeople at Atelier Calla responsibly source cow horns from the Haitian food supply. These horns are then upcycled into beautifully made one-of-a-kind gifts from Haiti, such as this set of salad tongs.
Since 2011, Jonas has been part of a team of over 30 artisans who work in wood, bone, and horn. Now, Jonas is able to provide for his family, pay the necessary fees for his daughters to attend school, and is even saving to buy a home. He feels blessed to be part of this community.
By choosing gifts from Peace by Piece International partner Atelier Calla, you're helping to provide fair wages to talented people like Jonas.
Meet Franz, a textile artist at Sandilou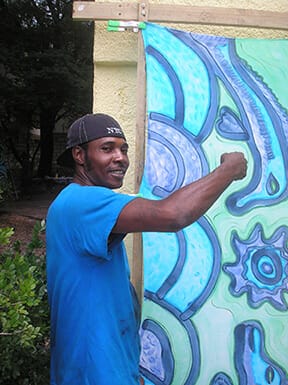 Franz Pierre Louis has always had an affinity for art. As a young boy, he excelled at airbrushing. Now a prolific painter, he creates joyful, vibrant, and top-quality art while he and his wife raise two boys near Port-au-Prince.
Franz is one of about ten employees who work with Peace by Piece International's partner Sandilou. Founded in 2012, Sandilou transforms fabric with freehand paint, dyes, and appliques to produce original fashion and housewares.
"We are not a fashion house with collections," explains Sandilou founder Sandra Russo. "We produce easy-wear, just like the Caribbean. We are happy and easy, we're a lifestyle that's a visual feast, effortless, with little stress and in no hurry to change what is comfortable."
By purchasing these original gifts from Haiti, you support the confident, artsy, and adventurous spirit that permeates the island, expressed by artisans who take pride in creating collection-worthy pieces infused with Caribbean joy.
Shop all of Peace by Piece International's gifts from Haiti