Lauri's entrepreneurial journey began in 1993, when she founded Intracom, Inc., an international software localization and marketing business, based in Cambridge, Massachusetts. The business provided linguistic and cultural adaptation of products and promotional materials for the nascent technology sector. After five years, Lauri left Intracom to focus her energies on Latin America, where she had previously lived at length. She joined International Data Corporation as VP of Research, Latin America, where she worked for nearly 10 years.
In 2001, Lauri moved to London with her husband and two young children, Giovanna and Nicolo. Lauri spent the first few years in the UK having fun with "Gio" and "Nic" and traveled extensively around Europe and parts of Africa. Beginning in 2006, Lauri then joined PressChoice, a boutique market research firm based in London, that provides intelligence to the financial services industry. As Director of Research, Lauri spent nearly 10 years developing and leading projects that evaluated how the media perceived large financial institutions. Her clients included Fidelity Investments, HSBC, Lloyds Bank, and Scottish Windows.
Lauri is also the originator and co-producer of the Share Cookbook, a hardcover "coffee table" book to benefit Women for Women International. Meryl Streep wrote the foreword for the publication, which has sold nearly 65,000 copies. Artists and humanitarians, including Paul McCartney, Nelson Mandela, Annie Lennox, and Emma Thompson contributed recipes for the book. The development of the book took Lauri to places like Rwanda, Kosovo and Bosnia. In these post-conflict countries, she met women whose lives had been transformed by the opportunity to work and develop the skills that provide them a path to-self reliance. Through these experiences, Lauri became aware of the global talent for producing well-designed, sustainable products.
Lauri is a graduate of the Middlebury Institute of International Studies in Monterey, California and attended PUC in Rio de Janeiro, Brazil.
Today, she resides in Los Gatos, California with her husband, Paul.
Morgan is passionate about championing women and girls to create positive social change. She is currently a Facilitator and Consultant partnering with organizations to enable leaders and teams to generate moments of insights, foster deeper connections and achieve accelerated outcomes.
Morgan spent 8 years at Peak Teams Inc, as Director of Operations and General Manager, where she guided the success and growth of the business while developing and sustaining partnerships with clients.
She is also active in the social impact space. She has worked with small social ventures to increase their impact and sustainability, served on the board and as Board Chair at Girls for a Change, a national organization empowering girls to create social change in their communities, from 2004-2014, and worked with Kiva on their fellows program. She holds a B.A. in Management Communications from Point Loma Nazarene University in San Diego.
Morgan lives in Santa Cruz, CA with her husband Casey. She loves traveling to new places and spending time near and in the ocean.
Dedicated to helping women rise through philanthropy, mentorship and creating social change, Robin Selden is a former Chief Marketing Officer for the world's largest consumer cybersecurity company and part of the executive team that took the company public in May 2018 as the largest Tech IPO in the history of the London Stock Exchange. With over 3 decades of a successful career in the tech industry, Robin is currently a Member of the Board of Directors for the Julian Center, a Mentor at the Miller Center for Social Entrepreneurship at Santa Clara University, a Business Advisor, and a Guest Lecturer on Leadership and Marketing at the Graduate School of Business at SCU. Ms. Selden specializes in global brand development, demand generation and customer loyalty, content marketing, customer experience and channel strategies. Her career includes executive positions at Avast, NETGEAR, Dolby, Logitech and Adaptec.
Robin has served on the Board of Advisors for Santa Clara University Graduate School of Business, is a recipient of the Silicon Valley TWIN award honoring Women Executives, and was recognized by the Silicon Valley Business Journal as one of the "Top Women in Business for 2003". She holds a Masters in Business Administration from Santa Clara University and graduated with honors with a Bachelors of Science from California Polytechnic State University.
Brita has led several influential women's organisations and networks. She currently runs Women for Women International - UK as Executive Director and Senior Vice President of Global Partnerships and has worked at the organisation for almost 10 years. She has grown the organisation from when it first started in the UK to a medium-sized charity which is helping thousands of women in countries affected by conflict and raising millions through effective and innovative donor relationships and partnerships.
Brita is also the Chair of Gender Action for Peace and Security (GAPS). Previously she was a Commissioner to the UK Women's National Commission, Chair of the Gender and Development Network, Director for Programmes & Policy at Womankind Worldwide, board member of BOND and she started her career at the European Women's Lobby.
Brita holds a MA in Women's Studies from the University of Sussex. Originally from Germany, Brita went to school in Venezuela. She now lives in the UK with her husband and two daughters.
Una Hrnjak-Hadziahmetovic
Una is a passionate sustainability professional. Currently at Gap Inc., she is a Senior Manager for the Gap Foundation and the Gap Inc. Global Sustainability team. She leads Gap Inc.'s Workforce Engagement Program dedicated to advancing the lives of garment workers and enhancing worker engagement. In addition, she supports the multi-year Women + Water Global Development Alliance, dedicated to improving the well-being of women in one of Gap Inc.'s key sourcing countries.
Prior to Gap Inc., Una worked in management consulting where she successfully helped international development organizations, Fortune 500 companies, and the federal government with developing and executing tactical strategies. She has been recognized for her work with a GreenBiz 30 Under 30 Recognition as an Emerging Leader in Sustainability.
Una holds a MA in International Development from American University's School of International Service and a BA from Miami University. In addition to her professional work, Una is a Fundraising and Events planner for the Global Fund for Women and serves as an Ambassador for Women for Women International (an organization founded in the aftermath of the war in her home country of Bosnia and Herzegovina to help women survivors of war rebuild their lives).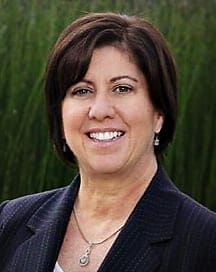 Teri is an accomplished HR executive and Board member with a record of creating shareholder value through human capital strategies that drive growth, performance, and scale. Teri had a long and distinguished career at Hewlett-Packard as Senior Vice President, of HR, where she was responsible for more than 115,000 employees across 50 countries and multiple business sectors.
Teri serves on the Board of Directors for JobTrain, a prominent 501 (c)(3) organization focused on job development. She also serves on the Executive Compensation Committee for El Camino Hospital where she advises and assists the publicly-elected Hospital Board in responsibilities related to CEO selection, executive performance, compensation, and succession in the rapidly changing health care sector. Since 2016, Teri has mentored global entrepreneurs building social enterprises through the Miller Center for Social Entrepreneurship at Santa Clara University.
Teri holds a Ph.D. in Industrial and Organizational Psychology from Colorado State University and completed an Executive Program in Strategy and Organization at Stanford University's Graduate School of Business.